Collections: a portrait was based around ideas of "curating" life.  Thinking about the way individuals reveal their identities, conscious or not, through their collections, I wanted to make a portrait of my community using a somewhat documentary form of video.  Defining "collection" loosely, as one major thing that I feel describes their person/essence, I treated each very differently.
…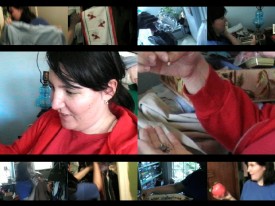 "LoveLea," highlighted a vast collection of items from ebay, thrift excursions, and gifts.  Each darling and precious, the items within the context of her home became a clear curatorial description of her aesthetic.  More importantly, the way she handled and discussed them revealed a lot about her past and current life, interests, beliefs, and joy.
…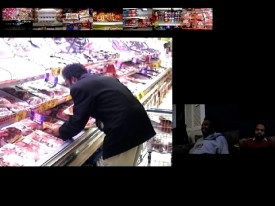 "Mars" followed a man on his usual grocery shopping routine, of which took a winding route and offered a lot about his thought process (as well as daily life).  Seeking deeper understanding, I asked him to watch himself grocery shop, and comment on what he may have been thinking, deliberating, etc.  Finally, I asked him to watch himself watch himself, for which he confessed self-conscious thoughts that seem simultaneously unusual and relatable.
…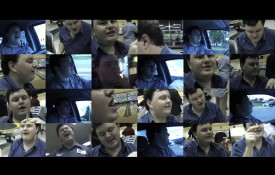 "Playlist-Laron" considered an intangible collection: all the songs he knew every word of and sang bravely (in mono-tone) everywhere, in public and private.  The song-list itself is telling of his personality, but the daily performance of these songs (often including signature dance moves) gave away so much more.  The video aimed to demonstrate the breadth of his playlist, while elevating his lovable character.