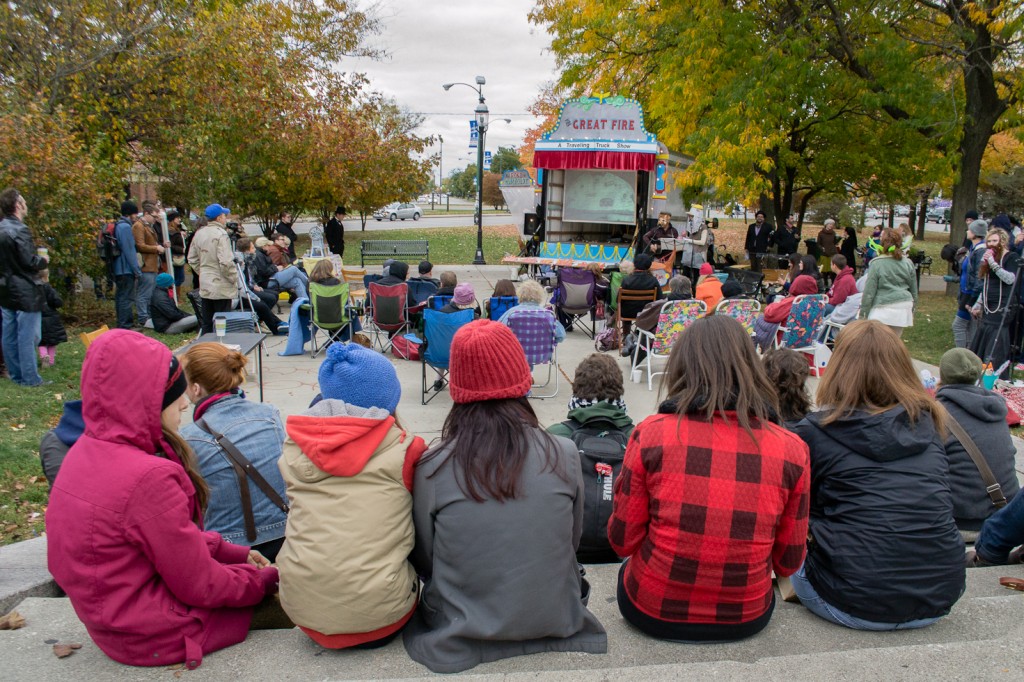 View the archive of the project for all the details, images, sounds, credits, research and inspiration: http://travelingtruckshow.org/
"The Great Fire: a Traveling Truck Show" was a performing arts event that toured Chicago in October 2012 with a moving truck as our pop-up stage, stopping at community sites to perform for the public for FREE. Inspired by the form of early American traveling shows and referencing Chicago neighborhood histories after the Great Fire of 1871, we engaged audiences with storytelling, music, comedy, multimedia dioramas, and more.
With Chicago's Great Fire as a starting point, we wrote a referential tale to function as our overarching storyline. Using the idea of fire symbolically, the theme of transformation was represented in our story, inspired by historical characters and memories from each neighborhood. In our research, we discovered connections between these histories, which we fictionally infused into our main script—played out through live-action bits, animation and puppetry, interactive tableaus, and song. We wrote vignettes about Ignaz Scwhinn, the Jefferson Ice Company, August Spies and other labor activists in Pilsen, Riverview Park, and the changing streetscape/demographics of West Town—just to name a few.
Fusing together our storylines in a variety show, we also played with the form of Vaudeville.  Early American traveling shows created a stage for the most eccentric of acts and created unifying moments of shared experience and pleasurable escape for all audiences. The scripted story was punctuated by performing acts and interactive sideshows. Local performers joined us to enliven the truck stage and performance area at each stop. In the spirit of traveling show eclecticism, we opened up the opportunity with a call for performers of all kinds, and confirmed:  Poor Elvis, a rhythm and revival musical duo; Sid Yiddish, a throat-singer; Mark Piekarz, a classical tenor performing the works of Polish composer Antoni Jax (who lived and worked in Avondale in the early 1900s); Phaedra Darwish and DrumFace, a bellydancer and her snakecharmers; Katie Palmer, a fire breather; Tai Kojro-Badziak, performing Fire Poi; Tim the Mind Bender, performing ESP and magic tricks;  Casey Brown, Indigenous (Ho-Chunk) comedian; and Laughing Eye Weeping Eye, psych-folk medieval musicians. Sideshows included tarot readings from a custom-illustrated deck of cards by Rebecca Schoenecker, The Man in the Bag–a durational art performance, and a photo opp with the Bee-Bearded Lady.
A few photos from our show (photo documentation by Tanner Young and Brooke Herbert Hayes):
See more photos of each show and in-the-making on our archive site:  http://travelingtruckshow.org/