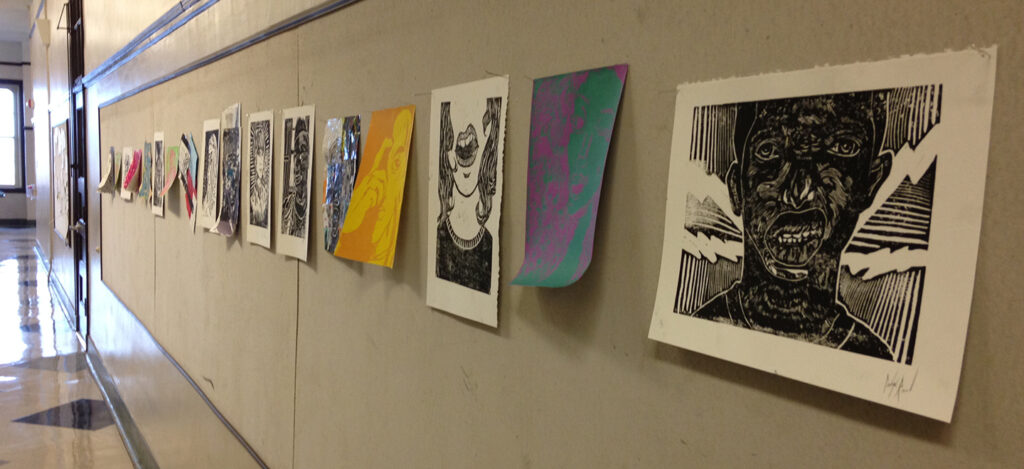 I am honored to currently spend my time with the amazing young people at The Chicago High School for the Arts.
Below is a selection of student work from projects developed for the first-year visual artists in my Drawing By Design course.
---
Project: Make Remake
Essential Understanding: Artists and Designers play with form, material, and ideas. 
After analyzing the work and approaches of artists who work with non-objective imagery, we embodied two approaches to formal experimentation: intuitive mark-making and conceptual drawing. Students disassembled their two drawings to "remake" together, exploring composition and formal play. 
(earlier versions of this project worked with a grid)
---
Project: The Illustrated Figure
Essential Understanding: Artists and Designers tell stories, balancing representational and abstract imagery.
To practice narrative development and working with representational imagery, students interpreted a poem and made a cut paper illustration response – considering the interplay of figure and ground (positive and negative shape) to utilize the whole page and using source material to design imagery that is both specific and semi-abstract.
---
Project: "I am a DJ" Album Cover Design
Essential Understanding:
Problem-solving with limits can yield unexpected results.
Anything can be used (with responsibility) as source material for art.
I have the power and imagination to create a whole world with limited elements.
As a DJ mixes samples to work together into one cohesive song, we combine and visually manipulate borrowed (appropriated) elements to mix together (recontextualize) into a composition that reveals our understanding of spatial depth, emphasis, and visual unity. Students chose a song to inspire and guide stylistic choices and color palette.
Project Goals:
To practice source material collection, appropriation of imagery from the world around us
To generate many ideas for composition design (layout) with limited elements
To lead the viewer's eye by creating emphasis or focal point
To experiment with methods of manipulating spatial illusion
To develop a color palette applying color meanings and color relationships

A few of my favorites: