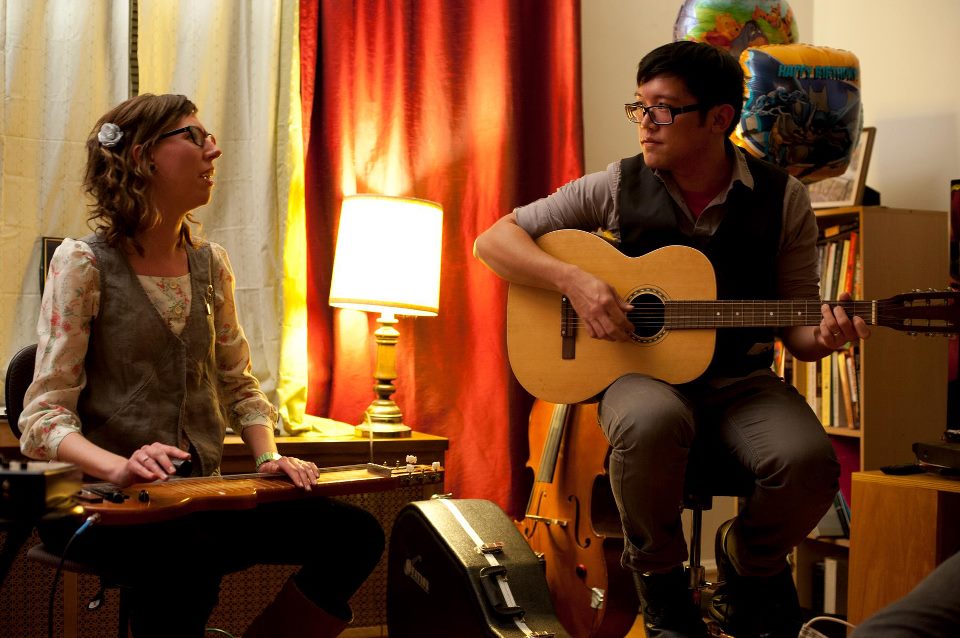 (Chris Lin and Kayce Bayer) We're a country-cabaret duo on ukulele/guitar and lap-steel/glockenspiel/banjo-tar, playing sweet silly originals and folky-style cover songs.
—
The Onion Song, written by JH+WD for the Traveling Truck Show:
—
JH+WD silly cover songin' @ Remake Closing Event (Eel Space):

—————————————————————————————————-
Past Shows:
The Logandale Roadshow
Quencher's,  Chicago
8/8/2012
opened for: Poor Elvis and Dirty Generals
Wanda performed solo for Rana and Paul's Salon
Kedzie Ave, Chicago
5/20/2012
Best Friends Open Mic Night, Part Deux
Amy + Joe's, Chicago
4/21/2012
House Show
Eel Space, Chicago
3/17/2012
also played:  Laughing Eye Weeping Eye, Hannis Pannis, and The VonVolsung Sisters
"Goodbye, Painting, Goodbye" performance in Painting is Dead, Again
The Charnel House, Chicago
5/28/2011
"Remake" Closing Event
Eel Space, Chicago
2/19/2011
set list:  remakes of "The Pill" by Loretta Lynn, "Enter Sandman" by Metallica, "Kiss you through the phone" by Soldier Boy, "Shake it off" by Mariah Carey, and "Baby" by Justin Bieber
Op Shop Performance + Potluck
Hyde Park Neighborhood Club, Chicago
10/24/2010
played originals
shared bill with Hannis Pannis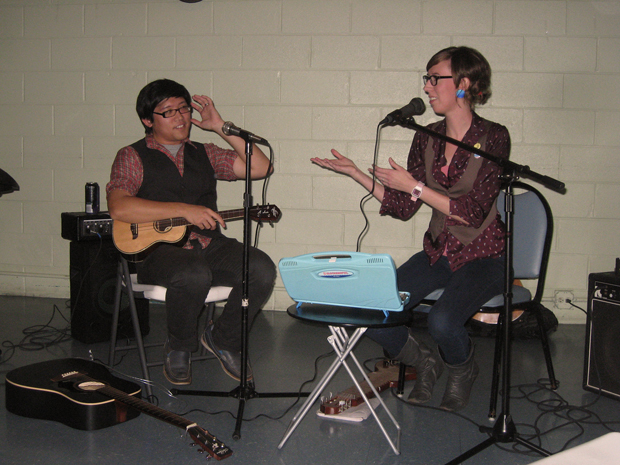 "Manifest"
Phyllis' Musical Inn, Chicago
7/3/2010
played originals + cover love song battle:  How Deep is Your Love, Let's Stay Together, Baby, and Wind Beneath my Wings
shared bill with Hannis Pannis, and DJ Mr. Wiggles (and special guest accordion player, Brother)
"Keep the C in Country" Event
Good Stuff House, Chicago
5/30/2009
P&H Cafe, Memphis
1/3/2009
played with The Warble, J. Dorothy Jones, and Le Hawk (formerly Les Chouettes)
—————————————————————————————————-
Kayce also used to play with Les Chouettes in Memphis, TN (where they once shared the bill with the Mountain Goats and Calvin Johnson).
She spent her early singer-songwriter days in Tallahassee, FL, playing at coffee shops and alternative art spaces.